Product Overview
4 Mil Vinyl Exam Gloves are designed for use in various industries, including the medical field and the food industry. These exam vinyl gloves feature 4mil thickness and help protect the wearer from cross-contamination, reduce the risk of disease spreading, and protect the hands from germs and bacteria. A key feature of vinyl gloves is that they do not contain natural rubber latex, making these a great choice for clinics or restaurants that may have employees with latex allergies looking to buy bulk vinyl gloves. Vinyl Exam Gloves pair well with a wide range of PPE (personal protective equipment) products.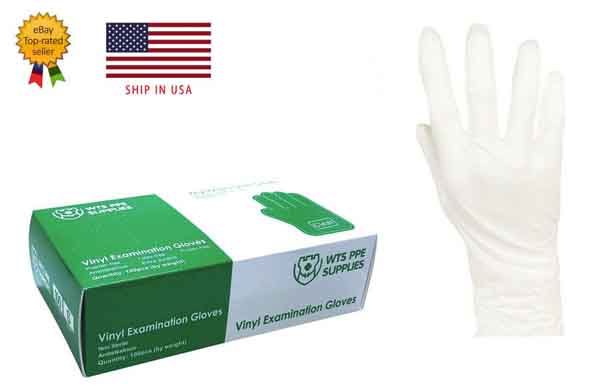 Features and Benefits
4mil Thickness for Optimal Protection
Helps Prevent Cross-Contamination
Reduces the Risk of Disease Spreading
Useful in Medical Environments and Food Industry
Great Option for Various Industries
Protects Hands from Germs and Bacteria
Does Not Contain Natural Rubber Latex
ISO Compliant and Thoroughly Tested
Size Guide
For the proper fit, measure the dominant hand's circumference just below the knuckles.
Small (RVG101B, RVG101BC): 7 to 8 Inch Circumference
Medium (RVG102B, RVG102BC): 8 to 9 Inch Circumference
Large (RVG103B, RVG103BC): 9 to 10 Inch Circumference
X-Large (RVG104B, RVG104BC): 10 to 11 Inch Circumference
Product Specifications
Manufacturer: WTS PPE Supplies
Brand: WTC PPE Supplies
Product Numbers: RVG101B, RVG101BC, RVG102B, RVG102BC, RVG103B, RVG103BC, RVG104B, RVG104BC
Application: Exam Gloves
Type: Vinyl Exam Gloves
Quantity: Box of 100 or Case or 1000 Vinyl Gloves (10 Boxes)
Thickness: 4mil
Material: Vinyl
Latex-Free: Yes
Powder-Free: Yes
Sterility: Non-Sterile
Ambidextrous: Yes
ISO Compliant: 9001:13485
Latex-Free: Yes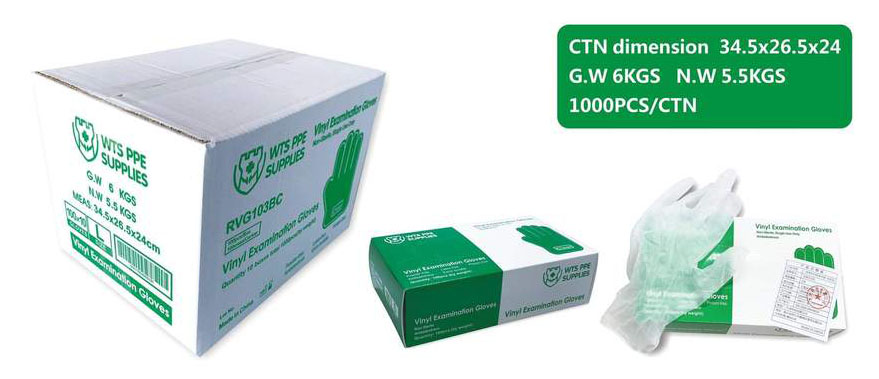 Additional Information
| | |
| --- | --- |
| Manufacturer | WTS PPE Supplies |
Shipping & Returns
Shipping Information
Leaves Warehouse: 1-2 business days – More details
Economy Shipping: Guaranteed 7-10 business days
Returns Information
Refer to our returns policy for more information.