Curad Powder Free Exam Gloves Key Features
Textured Surface

These latex gloves are designed with a textured surface to provide a secure grip on medical instruments. Grasp and hold items with confidence.

Elasticity

Superior elasticity allows these gloves to contour to the curves of your hand and wrist and adapt to the folds of your skin.

Barrier Protection

Medical gloves that do not provide barrier protection are not adequate for use as medical gloves. CURAD latex gloves provide medical grade protection for surgery and other medical procedures as well as countless other uses at work or home.

Excellent Fit

These medical gloves fit comfortably and often seem to be just an extension of your hands. Most find that when donning these excellent fitting gloves they do not even notice that they have them on!
CURAD Powder-Free Latex Exam Gloves are the perfect alternative for the handling of unsafe products such as chemicals or other hazardous materials. Medline's Curad Powder-Free Latex Gloves have many protective properties that are able to help you stay safe in a hazardous working environment. The gloves are created powder-free to avoid allergens and have a textured surface to assure a secure grip on items as you're working. Extra elasticity helps the glove stretch to fit the hand while adding comfort and overall strength to the glove. The 5.9-mil thickness at the palm offers extra protection for the biggest part of the hand being used.
Vitality Medical carries a wide assortment of medical gloves, including McKesson Vinyl Gloves, Flexal Nitrile Gloves, Ambitex Latex Gloves, and Detecto Glove Dispensers.
Anatomy of an Exceptional Exam Glove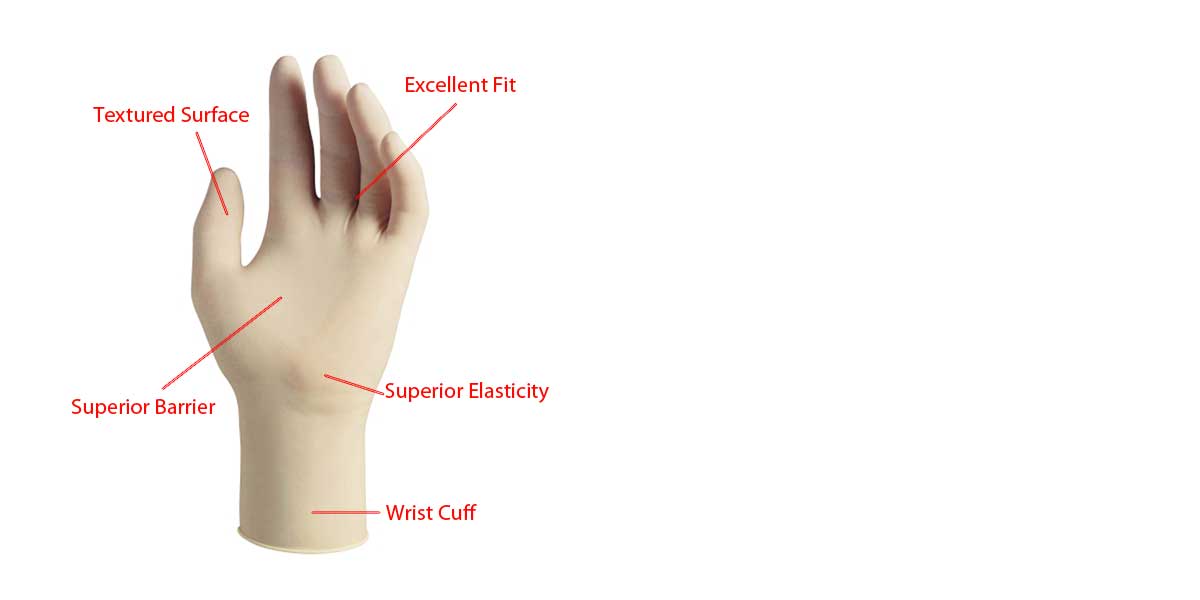 Product Features and Benefits
Latex-Free to Avoid Allergic Reactions in Users or Patients
Thicker Overall Glove Makes It Safer to Use
Excellent Elasticity for Better Overall Fit
Extra Thick at the Palm to Avoid Punctures From Materials
Textured Surface for a Better Grip
Product Specifications
Manufacturer: Medline
Brand: Curad
Product Numbers:
Sizes: X-Small, Small, Medium, Large, X-Large
Length: 9 Inches
Palm Thickness: 5.9 Mil
Finger Thickness: 6.7 Mil
Color: Beige
Coated: No
Cuff: Beaded
Chemotherapy: No
Powder: No
Sterile: No
Texture: Full
Latex: Contains Latex
CURAD Latex Exam Gloves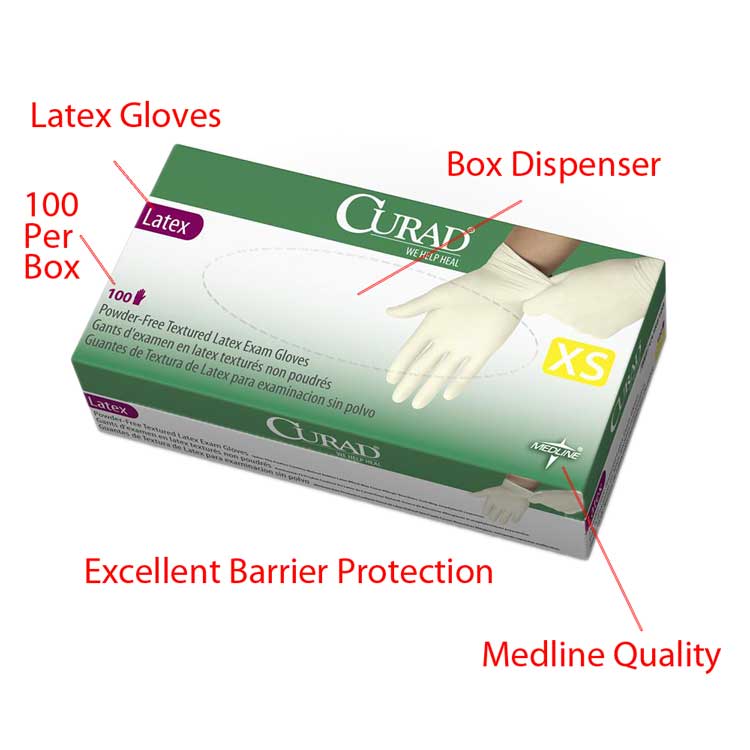 Additional Information
| | |
| --- | --- |
| Manufacturer | Medline |
| Color Filter | Beige |
| Powdered | Powder Free |
| Sterility | Non-Sterile |
| Surface | Fully Textured |
| Thickness | 6.7 mil |
Shipping & Returns
Shipping Information
Leaves Warehouse: 1-2 business days – More details
Economy Shipping: Guaranteed 7-10 business days
Returns Information
Refer to our returns policy for more information.