Nacosa Blue Disposable Exam Glove Overview
Nacosa Nitrile Exam Gloves by WRP Asia Pacific protects the hands from contamination and chemicals while users work in food processing, household cleaning, industrial manufacturing, and more. These blue nitrile gloves are medical-grade with 4 Mil thickness for superior strength. It also has greater puncture resistance than natural rubber latex gloves.
Nacosa Disposable Nitrile Exam Gloves have textured fingertips adding security and slip-resistance in wet and dry conditions. Using 100 percent nitrile, this eliminates possible allergic reactions for users with latex sensitivity. It's also powder-free so it can be worn for a greater length of time without irritating the skin. Before applying the gloves, you may also want to wash and sanitize with Avagard Foam Hand Sanitizer and Moisturizer to add moisture to the skin to prevent dry skin from prolonged use of disposable gloves.
Nacosa Medical-Grade Glove Highlights
Powder-Free Prevents Irritation and Dermatitis
100% Nitrile Material, Void of Latex
4 mil Finger Thickness for Superior Strength and Puncture Resistance
Textured Fingers Add Slip-Resistance
Ambidextrous
Beaded Cuff Creates Easy Donning and Prevents Rolling
No Unpleasant Odor
Powder-Free Reduces Skin Irritation and Dermatitis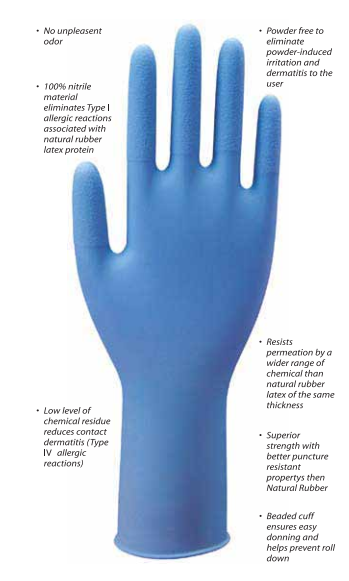 Nacosa Nitrile Glove Finger & Palm Thickness:
Finger Thickness Average: .105 mm (4.13 mil)
Palm Thickness Average: .074 (2.91 mil)

Features and Benefits
Confident Protection
BPA-Free
Powder-Free
Latex-Free
Single-Use, Disposable
Comfortable
User-Friendly
Durable
Blue Color for Easy Detection
Product Specifications
Manufacturer: WRP Asia Pacific
Brand: NACOSA
Product Numbers: 11201.112113195, 11202.112113195, 11203.112113195, 11204.112113195
Color: Blue
Quantity: 100 Pieces/Box, 10 Boxes/Case, 100 Boxes/Bulk Case
Sizes: Small, Medium, Large, Extra Large
Type: Medical-Grade Nitrile Glove
Sterile: No
Material: 100 Percent Nitrile
Finger Thickness: Average .105mm (4.13 mil)
Palm Thickness: Average .074 (2.91 mil)
Length: At least 240 mm
Small Palm Width: 80 ± 10 mm
Medium Palm Width: 95 ± 10 mm
Large Palm Width: 110 ± 10 mm
Extra-Large Palm Width: 110 mm
Recommended Shelf Life: 5 Years
Place of Origin: Malaysia
Frequently Asked Questions (FAQs)
Are Nitrile Gloves Biodegradable?
Yes, but it will take longer for nitrile to breakdown than latex natural rubber material.
Are These Nitrile Gloves Hypoallergenic?
Nitrile has a lower allergy rate than latex natural rubber and therefore is the better choice when used by a large population.
Why Are the Nitrile Gloves Blue?
The blue color provides users at-a-glance that the gloves are nitrile and not latex to help individuals who have an allergy to latex.
Is 4 Mil thickness Adequate?
Yes, most users find general use nitrile gloves with 4-8 mils thickness to be adequate because it has better dexterity and flexibility than a higher gauge option.
Additional Information
Shipping & Returns
Shipping Information
Leaves Warehouse: 1-2 business days – More details
Economy Shipping: Guaranteed 7-10 business days
Returns Information
Refer to our returns policy for more information.